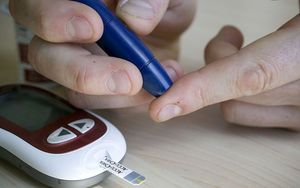 A pilot programme designed to help those with diabetes gain better control of their condition is reporting positive results.
No caption
Karori Medical Centre in Wellington has trialled the pilot, which involves hospital specialists upskilling family doctors and nurses to work closely with people in the community.
A Karori GP, Peter Moodie, said 55 patients with the worst diabetes took part in the pilot and after 15 months a quarter saw their HBA1C levels – the key marker of diabetes control – drop into the normal range.
Of the patients who took part, 80 percent saw a drop in their blood-glucose scores of more than 10 millimols a litre, indicating better control.
"It's lowering their cardiovascular risk; it's lowering the risk of diabetes as well; it's lowering the risk of ulcers. I mean, if we can get them into the normal range they should be behaving like someone who is otherwise not quite without diabetes but close to it."
Dr Moodie said care was delivered sooner for many patients and it was a model for other long-term conditions.
https://www.kmc.co.nz/wp-content/uploads/2014/12/four_col_diabetes.jpg
188
300
admin
admin
2014-12-17 08:52:40
2014-12-17 08:52:40
Good results in diabetes trial